AUSTRALIA'S SMOKELESS TOBACCO
"At last we have found something where Australia is leading the world: permits, rules and fees, not required to solve a problem, but to satisfy a bureaucracy's urge." Jim Darley
The Smokeless Tobacco Prohibition (Snuff and chew)
UPDATED 13/02/2009
Smokeless Tobacco Prohibition to be rolled back, but is prohibitively expensive due to exorbitant Customs import tariffs (fees) on chewing tobacco. This in turn has resulted in a "black market" trade in products of questionable quality.
The spirit of "Duty on imports" is to protect local growers and manufacturers. But, (Catch 22) it is illegal to grow, manufacture or even sell these products locally!
My personal experience with smokeless tobacco dates back 35 years, to this day I have no ill health effects directly attributable to to using smokeless tobacco. For a period of time I had bronchitis due to adopting smoking the available tobacco because of a ban by the Australian government. To this day I have not received any compensation for this but instead am forced to pay an unethical and illegal import duty on safe smokeless products.
Other countries recognize smokeless oral tobacco to be a safe alternative to smoking tobacco and impose little to no tariffs.
Should Australia lift its ban on low nitrosamine smokeless tobacco products?
Those people switching to smoking tobacco from smokeless products, experiencing respiratory complains, have been defrauded or who have been involved in an accident attributable to smokeless tobacco (nicotine) withdrawal please contact us for inclusion in the Class Action against the bureaucrats responsible for this damage at: glennerd9@gmail.com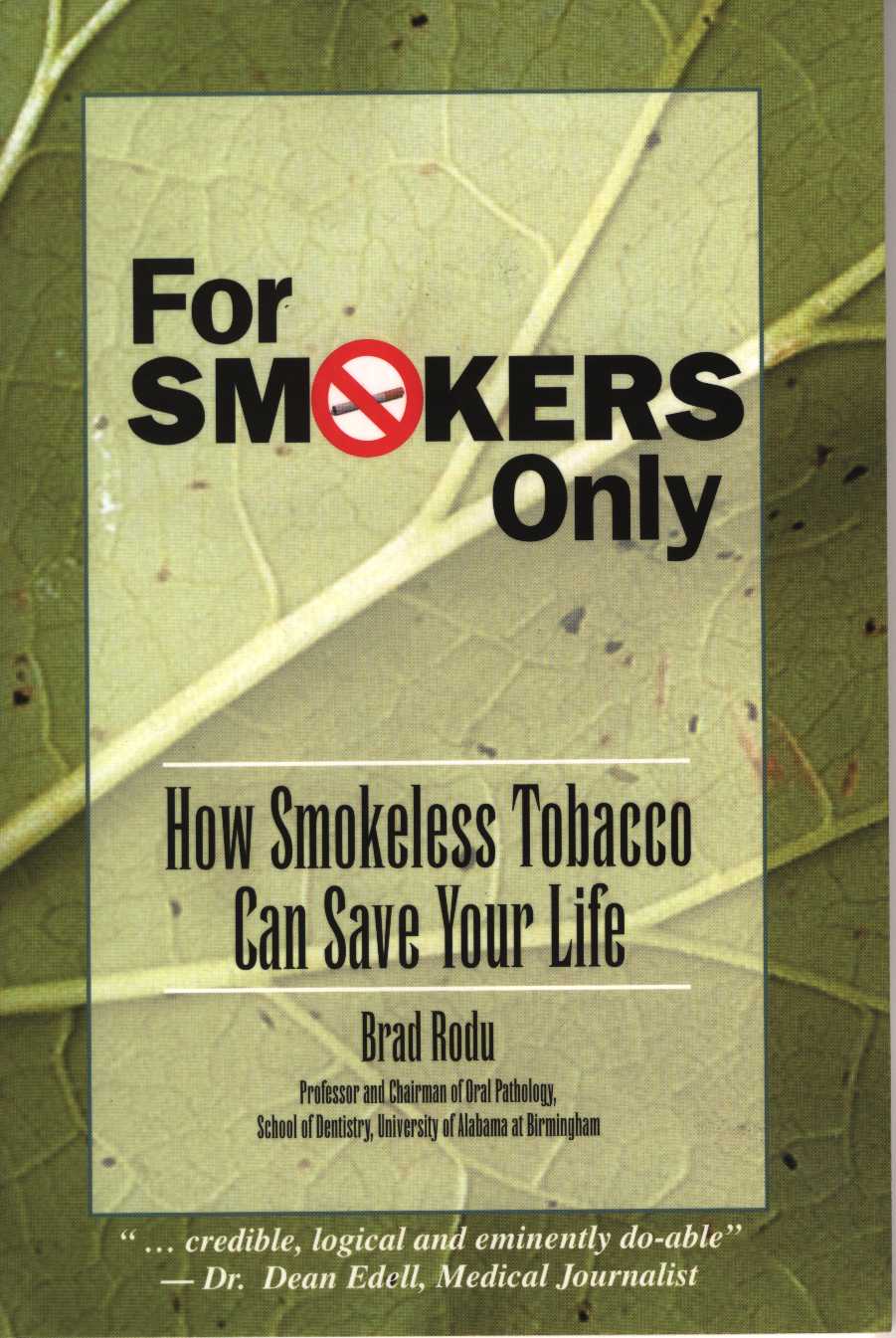 For Smokers Only - How Smokeless Tobacco Can Save Your Life available from:
Dr. Rodu
University of Alabama
1530 3rd Ave, SDB 81
Birmingham, Al. 35294-0007 USA
www.DrRodu.com
US$15
Fine Product Distributors:
The Swedish Match Company mailorder.snuff@swedishmatch.com
Little Brown Smoke Shack (now shipping via US air mail every Thursday to Australia)
http://www.smokeless.de (Germany....the smokeless tobacco webring)
Preface to the prohibition imposed in December 1999
SNUFF and CHEWING TOBACCO (smokeless tobacco or ST) in Australia, brands such as Redman©, GÖteborgs Rapé©, Copenhagen©, Skoal© and Oliver Twist© and many more have been removed from the shelves and now suffer a total prohibition of import under amended Customs Regulations Schedule 12 4U Item 5.
To add insult and injury to the Australian Labor Parties ban on sale, the present Liberal Government has amended the regulations to a total prohibition on smokeless tobacco for oral use.

This pro-tobacco site is devoted to having this legislation struck from the books and dispelling the myths and mis-information disseminated by the extremist anti-tobacco lobby. God gave us tobacco, it is up to the individual on how to use it.


Who Uses Snuff?
"In industries where dust or chemicals in the air make smoking dangerous, snuff is used as an alternative to a cigarette or pipe. Stockmen/women, sportsmen/women, welders, oil field workers and athletes traditionally use smokeless. In today's society where more and more places are becoming non-smoking, snuff can be used to give the same stimulating effect. Snuff taking is the cleanest way to take tobacco; there are no cigarette ends, no ash, and no pipe dottles to dispose of and no smoke to annoy other people."
Debunking government claims:
There is no any scientific or medical rationale for this prohibition of ST.
"Effects of smokeless tobacco on health outcomes other than cancer also are not clear." (NCI, Cancer facts,3.39,1994)

The risk of oral cancer is minimal and far less than that of other delivery systems for tobacco. "" Claims that smokeless tobacco causes cancer are grossly exaggerated for the sole purpose of collecting revenue and enforcing the misguided will of this government over the rights of the individual.

The number of oral cancers in Australia continue to climb at an increased rate after the ST ban, suggesting the ban is counterproductive and that users have switched to more dangerous substitutes from ST.

ST is an effective alternate to smoking to obtain nicotine; the gastrointestinal (GI) tract is the human bodies normal way of metabolizing substances.

Claims that the government is complying with a World Health Organization recommendation are completely false. The World Health Organization does not support a ban or prohibition of smokeless tobacco.

The nicotine in any tobacco is addictive, its effects include stress relief and improved focus of attention.

ST contains anti-carcinogens. Carcinogens in ST are a function of outmoded direct fired curing processes.

Snuff is not "spitting" tobacco. Claims that ST disposal spreads tuberculosis is no more valid than the disposal of cigarette or cigar waste. There is no scientific evidence to support the claim that spitting spreads tuberculosis.

A prohibition and sales ban is a violation of consumer sovereignty framed by the United Nations. Consumer Sovereignty

Who stands to benefit from the prohibition, sale ban and unjustifiable tariff? Philip Morris and British American Tobacco are still turning out millions of cigarettes for Australians and THE federal government collected over 4 billion dollars on smoking tobacco in 1998, current figures are a guarded secret, but the author surmises that they are increasing.

Australian regulators stand completely alone in their arrogance and intolerance. These products are legal, freely available and reasonably priced everywhere in the world.

Other countries recognize smokeless tobacco to be a safe alternative to smoking tobacco and impose little to no tariffs. It is increasing obvious that the present government is not interested in equality, rights or the welfare of the individual, but rather only in over-filling the treasury.

The government refuses to divulge any material that justifies their position.

Do you think it is only smokeless tobacco?...think again, follow these links to more examples of bureaucratic failing.
"Unfortunately, it is also an impediment to research in Australia, but facilitating research has not been a consideration in Australia for many years now. Governments have found it convenient to collect taxes under the guise of fees and permits. "User Pays" is nonsensical when there is no demonstrable utility for a particular service. Not truly required, but demanded "services" are an impediment to industry and commerce. They are one of many reasons why Australia is becoming less competitive despite the low value of the A$. It is a common failure of Governments that "civil servants" can freely invent "requirements" and charge usurious fees for any services." Jim Darley ProSciTech
Serious Links:
Smoking Cessation
Nicotine withdrawal leads to increase in accidents
Non smoking Lifestyle with the pleasures of nicotine
Oral cancer in a tobacco-chewing US population--no apparent increased incidence or mortality
Oral snuff, smoking habits and alcohol consumption in relation to oral cancer in a Swedish case-control study
AMERICAN INDIAN TOBACCO EDUCATION NETWORK
Risk assessment of snuff dipping
Smokeless tobacco and physical performance
Atherosclerosis - smokers vs smokeless and non-users
Traditional Aboriginal Use of Nicotine (Pituri)
Fun Links
Spike Molson (German)
where applicable full reprints of these articles are available from the publisher noted in each abstract
Copyrighted Peer Reviewed Journal Articles requiring reprints: (request from your local library or email me)

Journal of the American College of Cardiology Volume 34: 1784-170, 1999 (ST has no heart attack risk)
Cancer, Vol. 82: pg. 1367-1375, 1998 (No cancer risk)
International Journal of Cancer, Vol. 77: pg. 341-346, 1998 (No cancer risk)
International Journal of Cancer 85: pg. 340-346, 2000 (No cancer risk)
International Journal of Cancer 83: pg. 223-229, 1999 (No cancer risk)
British Medical Journal 305: pg.1252-1256, 1992 (No heart attack risk)
Oral Surgery, Oral Medicine, Oral Pathology, Vol. 86 No. 6 Dec. 98 pg. 697-706 ("No oral cancer epidemic")
Oral Surgery, Oral Medicine, Oral Pathology, Vol. 86 No.3 pg. 317-323 (verrucous carcinoma extremely rare)

Send your views, ideas or support to: glennerd9@gmail.com Please report all broken links.
Other Informative Links:
Smokers of the World Unite!
http://www.kidon.com/smoke/companies.html
http://www.junkscience.com/ http://www.snuffbox.freeserve.co.uk/index.htm

Disclaimer:
These pages are for information only.
I do not endorse any particular smokeless tobacco product (they are all good) or vendor nor do I advocate the use of such products but I do enjoy using them, I am not affiliated with any political organization and do not financially benefit from the sale of any material described at this site. Smokeless tobacco is not 100% safe, but then nothing is.
Updated daily. Last updated 22 February 2001
THIS PAGE IS constantly

and is copyrighted by the author...quotations and links must be properly credited by all